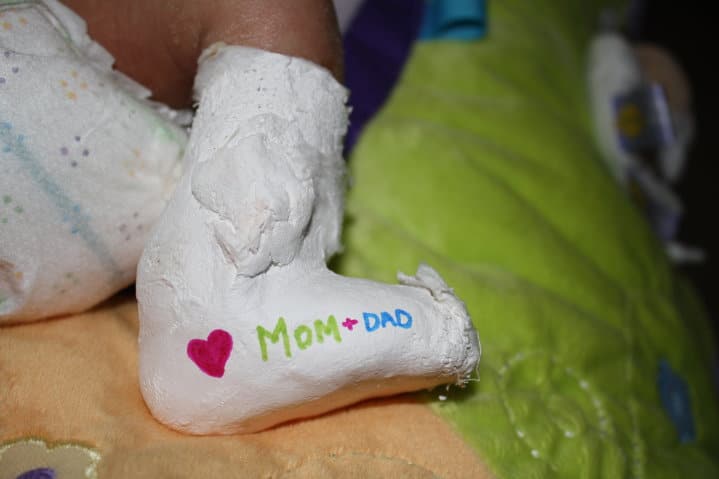 Today I drove to Toronto to take my boys to Sick Kids Hospital.  One of our twins was born with a condition called club foot.  I have blogged about it before in "My Biggest Parenting Challenge"  and "Club Foot, No It's Not a Dance Club" We go for check ups every 3-6 months.  The treatment has gone well in terms of his healing and progress but has been an emotional roller-coaster for myself and my husband.  It seems that the older he gets, the more varied the information is that we get.  Today was the worst.
First, we were supposed to go to the clinic in November, but every time I called they said they would call me back with an appointment.  Months passed, I called, same story.  Then, two weeks ago I called and finally got an appointment.
We went and waited, and waited and waited.  Our appointment was at 10am – we were not seen until 1:30pm.  I get that medical staff often get backed up, but 3.5 hours!!!  Let me tell you, being in a waiting room with twin 3 year olds for 3.5 hours is not good for anyone.
Once we were in the appointment we were told his foot looked perfect.  Some tightness in his Achilles tendon, but otherwise great.  Very good news, because in August we were told it might need to be casted.
Then, the appointment got strange.  I am concerned that his treatment is not specialized for him, but a cookie-cutter treatment for all patients with Club Foot.  So, I asked for an x-ray, to see the doctor, and to know more about what needs to happen in his treatment.
I was told an x-ray won't help, that the doctor was unavailable and that my son might need surgery.
Really?
We were told as a baby that he would never need surgery, and that he had such a mild case of club foot that his treatment would be simple and straightforward.
I feel that right now it is anything but.
My son cries, heart wrenching sobs when you put his boots on.  He doesn't understand why he has to wear the boots and not his brother.
I am heartbroken.
On one hand I have medical professionals that seem to be fear mongering about potential issues in the future, and the other hand a sad little boy who has trouble sleeping with his bar on, and is beginning to feel that he has something wrong with him.
Right now my gut is telling me to leave the shoes off for awhile, work on stretches and possibly seek out a second medical opinion.