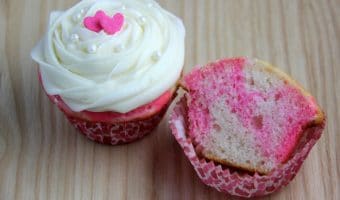 Growing up my mom used to make marble cakes with chocolate icing for birthdays. I loved them! I loved helping her make them and seeing the colors swirl together in the batter. Each cake unique in its own way and all the best of chocolate and vanilla cake together. I definitely thought it was baking genius. While making cupcakes for Valentine's Day I wanted to do something a little different and these Pink Marble Cupcakes were born.
The best part about marble cupcakes is you only need a few simple ingredients: a boxed vanilla cake mix, some food coloring, and yummy cream cheese icing and you are ready to create these adorable cupcakes perfect for any occasion.
With a change of sprinkles, they would be beautiful for a baby shower, a gender reveal party or a birthday.
If you have always wondered how to make marble cupcakes we have the directions. Much easier than you would think and they look fantastic at any event!
Top off these cupcakes with your favorite sprinkles for a fun, pretty and delicious treat!
PINK MARBLE CUPCAKE RECIPE
Ingredients:
Cake Mix White
3 eggs
1 1/4 cups milk
1/3 cup vegetable oil
Wilton Pink Icing Gel
Wilton Heart Sprinkles
Wilton White Sugar Pearl Sprinkles
Wilton Heartfelt Baking Cups
Directions:
Preheat oven to 350C
Make cake mix as per directions on the box.
Pour 1/3 of the prepared mix into a separate bowl.
Fill cupcake wrappers halfway full and set aside.
Add pink gel color to cake mix in the bowl and stir until it's reached your desired color. Add more gel for a darker fuschia pink, or just a bit for a lighter, softer pink.
Spoon 2-3 spoons of pink cake mix on top of cupcakes and swirl through with a knife being careful not to mix too much or the colors won't be distinct and you will lose the marble effect.
Bake accord to package directions – approximately 18-23 minutes.
Cupcakes are done when an inserted toothpick comes out clean.
I absolutely love the bright pink color of these cupcakes. Plus, the gel makes them taste slightly different without having a chemical taste that food color can add. Light and fluffy and so easy to make!